Miniatures
Chairman Morph salutes the Loyal Brave Defenders of the People once more.
---
Warhammer 40K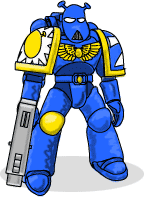 organised by Paul Naveau
THOUGHT FOR THE DAY: THE STRENGTH OF THE IMPERIUM IS THE WILL OF CHAIRMAN MORPH
The 40K event returns for 2008. This will be a 6 game event over 7–8 June for armies of 1750 points. There are 60 places and a minimum player age of 15.
The grand prize for this tournament is generously supplied by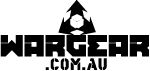 Additional sponsorship from Back2Base-ix and Black Cultist.

For more details and enquiries contact Paul Naveau (ah) on 0414 926032 or via e-mail at pnaveau <at> bigpond.net.au.
---
War Machine
and

Hordes
organised by Jason Wagoner
Warmachine and Hordes are Privateer Press's fast-paced and aggressive 30mm tabletop miniatures battle game set in the steam-powered fantasy world of the Iron Kingdoms. 
Victory will favour the bold so stoke the boilers and rile the beasts, fire up your A-game and come join us for the triumphant debut of WarMachine and Hordes at Phenomenon 2008.
Saturday and Sunday – 750pts Warmachine & Hordes mixed tournament using the most current version of SteamRoller. In addition, a non-scenario based win may only be claimed if the player has scored at least 4Vps (TBC closer to the event).
Monday – 500pts mixed Warmachine and Hordes using a combination of the Hardcore and Mangled Metal/Tooth and Claw formats. Specifically, warcaster/warlock and warjacks or beasts only, all figures must be FULLY painted & based, players will be limited to 7 minute turns, and any game that does not end in assassination is a draw.
If you have any questions, please contact Jason via PM on WAU (Jyggdrasil) or the Defiant Gaming forums (Jygg), or by email via deliciousfruittokens <at> grapevine.com.au.
Proudly sponsored by Defiant Gaming, Matisse Derivan, Back2Base-ix, Mainly Medieval (via Ozpainters) and Olypmian Games. Prizes include: Full set of Privateer Press faction coins and certificates and raffles for players fielding fully painted forces (more prizes TBA closer to the event).




---
Field of Glory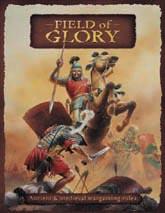 organised by Tim Sleigh
A two day event to see how everyone likes the new system. The event will be informal, but with as many prizes as we can scrounge. Bring your friends, bring your foes, bring your miniatures.
Scale: 15mm
Points: 600
Days: Saturday 7th, Sunday 8th June
Start time 9:00am
Finish 4:00 pm
Game length: 3 hours
Books: Any published lists by June 7th
List checking: By opponent in first round (while you set up)
Refs: By group discussion if needed
Scenery: Bring own, but some also supplied
Prizes: First place from each army list book (The first 4 books, if enough players enter)
Scoring: Probably Swiss Chess with a VP differential using Attrition points First match up will be by book, then by scores
Mind Games Sponsorships: 2x Gift vouchers for $35.00 (Best player and best Paintjob)
Contact tjsleigh <at> tpg.com.au for info.
---
DE BELLIS MAGISTRORUM MILITUM - DBMM
organised by Peter Barrett
Due to unexpected circumstances DBMM is cancelled. Pheno apologises for any inconvenience.
Please contact Pheno if you need further information.
15mm Wargaming in the Ancients Period, rules courtesy of Wargames Research Group (WRG). Thrill to the clash of sword, spear, axe and shield in 15mm!
Points: 400, plus another 10 points to buy only stratagems.
Lists: from DBMM Book 3, DBM Books 1, 2 and 4 (as modified by the DBMM Appendices), plus the latest version of DBMM Book 2 lists on the DBMM list (please ask me if you don't have access to them).
Days: 7th and 8th June (Saturday and Sunday).
Games: 2 per day.
Start time: 9am and 1pm each day.
Draw: Modified Swiss Chess system.
Time limit: Random between 3h 15m and 3h 30m.
Scale: 15mm.
Entry fee: $24.
Prizes: First place and Players' player.
Other notes: Programmed armies are allowed. A small number of armies are available for loan; ask me. Please send your army list to me at least a week before the competition.
Baggage: For armies from the DBM list books, the following rules apply for using baggage:
Regular baggage is only available for armies with a regular C-in-C and regular subs, AND baggage fortifications in their list. All other armies can only use irregular baggage.
Bg (F) is only available for commands containing only mounted and Ps. All other armies can only use Bg (O) or Bg (I).
Armies meeting both conditions have the choice of Reg Bg (F), (O) or (I).
An allied command of less than 10 troop elements cannot have more than 1 baggage element.
If in doubt, ask me.
Organiser: Peter Barrett (peter DOT barritus AT yahoo DOT com DOT au).
---
Flames of War
organised by Paul Brelsford
Maximum entries 20
1500 point Mid War Armies
5 x 2hour 30 min rounds - 3 Saturday and 2 Sunday
Awards for Best General, Best Army (player voted includes History and Painting), Best Sports (Player voted)
Army List Restrictions:
No weapons with an AP value of 14 or higher.
1 Artillery gun, AT gun or Tank gun with an AP value of 13 or 2 Artillery guns, AT guns or Tank guns with an AP value of 12.
No Tank with an Armour value of 8 or more.
There are no date restrictions within the Mid War list availability.
Restrictions are to encourage lots of toys on the table and tough going for all armies.
A mixture of fair fight and defensive missions to be advised closer to the tournament.
Organiser: Paul Brelsford brellycancon <at> ozemail.com.au
---