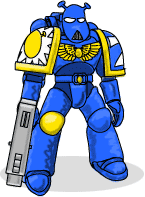 Miniatures
Don Morpho's little lads will settle your military hash but good!
---
Warhammer 40K
organised by Paul Naveau
BURN THE LASAGNE! KILL THE SPIRELLI! PURGE THE LINGUINI!
Phenomenon continues with its fourth year of Warhammer 40K with a tournament of 6 games over 2 days for players aged 16+ years.
Armies will be 1750 points taken from legal GW Codexes as at 30 April 2009, including GW online codexes and lists as agreed with the Tournament Organiser beforehand.
Tournament format, rules and scoring will follow a similar format to previous years.
For more details and enquiries contact Paul Naveau (ah) on 0414 926032 or via email at pnaveau <at> bigpond.net.au.
Warhammer 40K is proudly sponsored by Black Cultist.

---
Warhammer Fantasy
organised by Russell Harman
Phenomenon is pleased and proud to announce that we will be running a Warhammer Fantasy tournament this year!
This will be a tournament of 6 games over 2 days (3 games per day), using 2250 point armies.
Tournament format and rules will be based on the Irresistible Force format and will use the Tier Composition system from Irresistible Force as well.
We encourage both veteran and new players to come along and enjoy two fun days of warhammer and look forward to seeing you all there.
For more details and enquiries contact Russell Harman russell.harman <at> deewr.gov.au.
Warhammer Fantasy is proudly sponsored by Black Cultist.

---
Flames of War

organised by Peter Gillard
Phenomenon proudly announces that for a second year in succession that we will be running a Flames of War tournament!
This tournament will comprise of 5 games over 2 days (three games on day 1, two on day 2), using 1500 point armies. An army history will not be needed but your army list should be submitted to the tournament organiser by Monday 1 June 2009.
Players may field armies as per any valid Mid War list from Afrika, Ostfront or official 2nd edition lists from Battlefront, with the following restrictions:
No barrel (tank or gun) with an AP over 13;
Only 1 barrel of AP 13 or 2 barrels of AP 12;
No tank with armour greater than 7;
No remote control vehicles.
The five game rounds will comprise of the following missions: Free for all, Hold the line, Breakthrough, Encounter; and Fighting withdrawal (in that order). To add a degree of unpredictability, for the first four rounds "weather" conditions will apply (spring rain, dusk, dawn, harsh infantry conditions). These will be announced for each round at the time of pairings. Both veteran gamers and newcomers are welcome to participate, however every player is expected to have a painted army. Trophies will be awarded to First, Second and Third places based upon accumulated VPs, and there will be a Best Sport Award.
For more details and enquiries contact Peter Gillard peter_j_gillard <at> hotmail.com (please put "Pheno 09 FoW" in the subject line).
Flames of War is proudly sponsored by Mind Games and Olypmian Games.


---
War Machine
organised by Matthew Graham
The earth shakes as steam powered constructs of tempered iron and steel slam into eachother with the destructive force of a locomotive, where lead-spewing cannons chew through armour plating as easily as flesh, and where storms of arcane magics sets the battlefield ablaze.
Warmachine is Privateer Press's fast-paced and aggressive 30mm tabletop miniatures battle game set in the steam-powered fantasy world of the Iron Kingdoms. 
Victory will favour the bold so stoke the boilers and rile the beasts, fire up your A-game and come join us for the triumphant return of WarMachine Phenomenon 2009.
A 3-day tournament for 20 – 25 players using the following format:
Day 1
Format:500pts SR4 (MKI rules) Mixed WM/Hordes
Sponsor:Mind Games
Prizes: SR4 Coins, $50 Store Credit at Mind Games Canberra, $25 for 2nd
Cost:$18
Day 2
Format:750pts SR4 (MKI rules) Mixed WM/Hordes
Sponsor: Defiant Gaming
Prizes:SR4 coins, $50 Defiant Gaming Store Credit to 1st, $25 store credit for 2nd
Cost $18
Day 3
If you want to come along and have some friendly games it will be a gold coin donation.
Organiser for this event is Matthew Graham contactable via email mattyg2787 <at> gmail.com.
Proudly sponsored by Defiant Gaming and Mind Games. Prizes include: Full set of Privateer Press faction coins and certificates and raffles for players fielding fully painted forces (more prizes TBA closer to the event).


---
---