Special events
The enlightened one says that all paths to enlightenment are permissable. Even the ones that don't involve roleplaying.
Mission: improv-able
The second annual event — in the style of a cheap sequel.
There will be improvised theatre throughout the convention, drawn from a number of different sources (Whose Line is it Anyway?, Theatre Sports™ and more) — all culminating in a competition on the last day. All comers welcome!
You come face to face with a tentacled monster, realising too late that you're still wearing your Sailor Moon outfit; 60 seconds ago you were advertising cold, dead fish... Who knows what the next 60 seconds will bring? Comedy! Action! Drama! You'll see it all!
Workshops, demonstration and non-competitive games and experiments in improvised storytelling will be held at select times during the convention — sign up for these at the Mission: Improv-able stall during the convention.
Last Session (#10, Monday afternoon): The Mission: Improv-able Competition.
The competition session is for teams of four; in all the other events people will be mingled.
For more details check the Mission: Improv-able site on OzGamer.Net
Pheno ratings
Characterisation 4
Genre (Like love, a many splendoured thing)
Rules knowledge 0 (All will be explained!)
Story/plot (It's a mystery)
Seriousness (As serious as you want!)
Video rental scale ("Ooooh! I've been waiting for the next episode to arrive!")
---
Warhammer 40K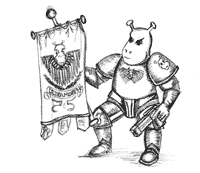 The grim darkness of the 41st millennium (in 28mm scale) comes to Pheno with the inaugural Warhammer 40K competition. The event, an 8 round tourney for armies of 1500 points for a maximum of 20 players, will be run in accordance with the Games Workshop National Tournament System 1. Three games will be played on days one and two, with two games on day three. Trophies will be awarded in the categories of 'Best Overall', 'Best General', 'Best Sportsman', 'Best Army' and 'Best Painted Army'.
For further information, and copies of the player's information pack for the tourney, please contact Paul Naveau on (02) 62413809 (AH) or e-mail at pnaveau <at> bigpond.net.au. At all times throughout the weekend players should remember that the tourney is about having fun, the spirit of the game (a game which, when all is said and done, is about pushing small figures around on a table top) and the opportunity to play new and challenging opponents.
Warhammer 40K costs $32 for the whole weekend.
Download the W40K players pack (PDF 172K)
Pheno ratings
Characterisation 0 (The Emperor wants your undying loyalty, not your angst)
Genre 2 (The Emperor protects)
Rules knowledge 3 (The Emperor knows all)
Story/plot 0 (We live for the Emperor, we die for the Emperor)
Seriousness N/A (War is always serious)
Advisory rating 0 (The Emperor's children know not the frailties of the flesh)